As time goes by, your teeth can have a tendency to shift, sometimes causing your front top and bottom teeth to become crooked. At first glance, you may think you need fixed braces, however with the patented Inman Aligner, your front teeth can be gently guided to an ideal position quickly and effectively, in a matter of weeks.
Inman Aligners are a quick and cost effective solution for correcting crooked teeth. The appliance is fully removable, so that you can smile during, and after treatment! Contact our Luton based orthodontic practice for a consultation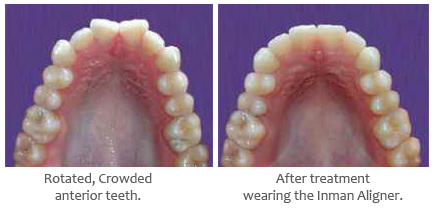 How does the Inman Aligner work?
The Inman Aligner applies a gentle pressure to the teeth that need to be moved to an ideal position. This gentle proces is provided by the spring action of the appliance.
Once your teeth are corrected, the Inman Aligner works like a retainer and holds them in place.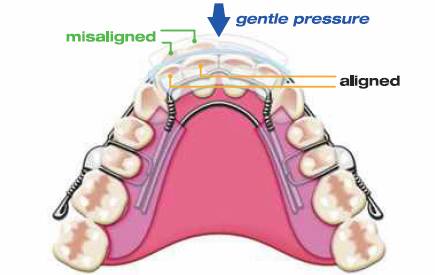 Can the Inman Aligner correct all crowded teeth?
No, The Inman Aligner is designed to treat the upper and lower front teeth.
After an evaluation, your doctor can determine an Inman Aligner is correct method of for your particular case, and will recommend treatment options.
The Inman Aligner advantage
Allows you to achieve great results using just one appliance.
Can give you a wonderful smile with less hassle and expense in a shorter period of time.
Can be removed and inserted as easily as a retainer.
Visit the
Inman Aligner
website to learn more.